Modern Raden-Colorful Geometry
NT$10,800
Item No.:PRA-MOFTGE0002
Material:artificial ivory
Size:Full Length 134.9mm
Nib:BOCK、JOWO
1. The gold nib can be upgraded:
https://mrcypress.com.tw/product/upgradegoldnib/
2.If the nib size is not specified, the default size is Fine nib.
3.Please remark the brand, material, colour and size of the nib after placing the order.
4.The picture is the representative, the actual shipment shall prevail.
5.A stainless steel connector is applied to align the nib with section and barrel at your discretion.
Description
【Mr. Cypress –Modern Raden-Colorful Geometry】
The seemingly regular geometric figures are actually different for each piece. The master must cut out the Raden pieces that fit the engraved position one by one, and then inlay them one by one. The value of handwork is fully reflected here!
The new pattern is made of artificial ivory in snow-white with the luster of mother pearl shell, so dazzling and moving, it is like being in the snow and looking at the stars .The different performances of customized Raden and white moonlight Raden have their own merits, which one do you prefer?
Raden is a traditional Chinese handicraft technique.Grinding conch or shells into thin slices, cutting them into different patterns with the skill of artisans,and then inlay the thin shells on pen according to the sketches, is an ancient and exquisite technique that is about to be lost.
CYPRESS's series of Raden that takes traditional craftsmanship into the fountain pen pattern, we try to do and design, finally break the tradition and boldly challenge the various of elements. In the future, we will continuously release more exquisite collections to accompany with your writing time.
CYPRESS is the top manufacturer of handmade fountain pens in Taiwan. We are your first choice for design writing, collection and gift giving.
(Length:134.9mm|Diameter:15mm|Weight:26.5g|Section : w11.3 xh 19.7mm|Filling Mechanism:Converter or Cartridge|Material:artificial ivory |Nib:BOCK、JOWO)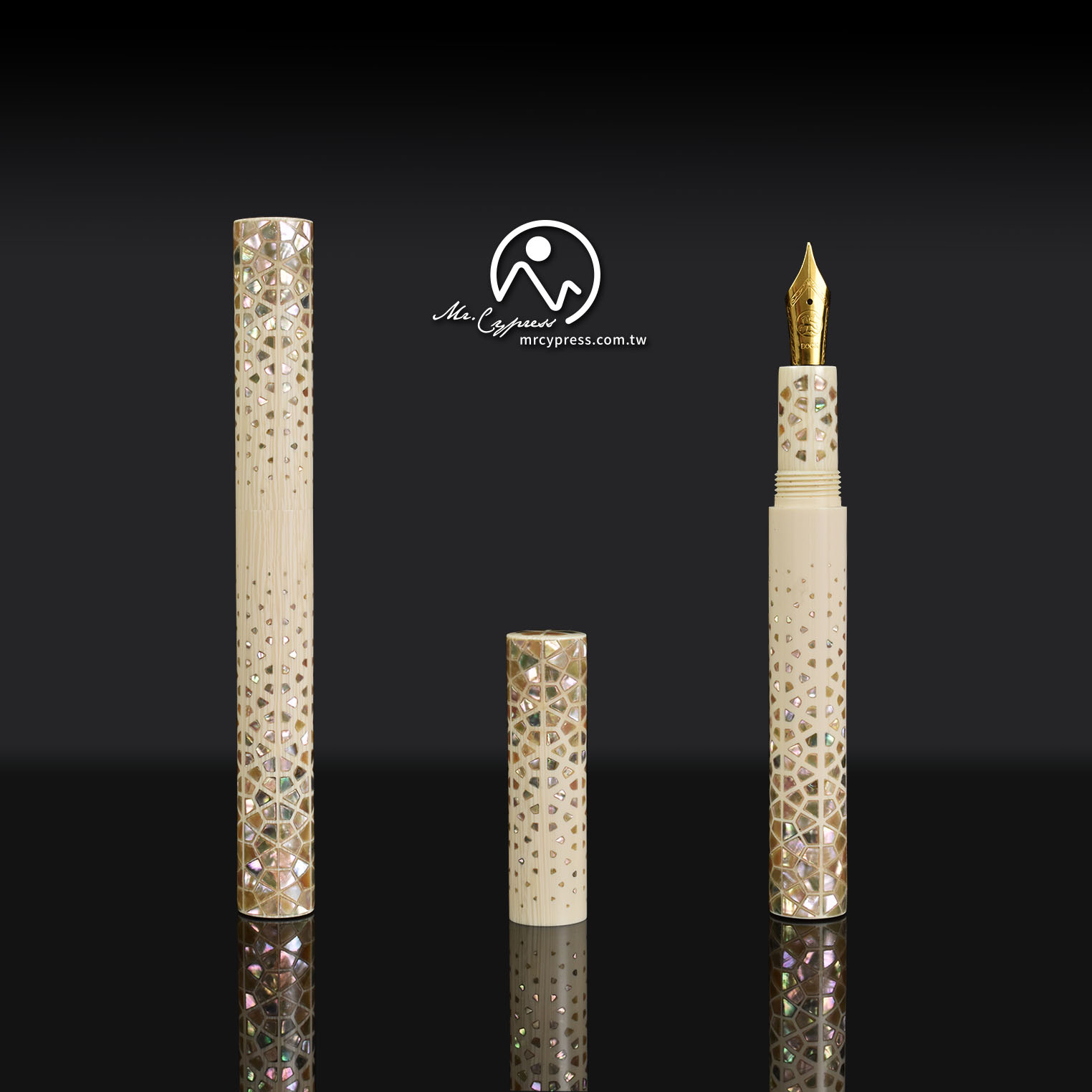 Additional information
| | |
| --- | --- |
| Weight | 0.0265 kg |
| Dimensions | 13.49 × 1.50 cm |
| Section | BOCK, JOWO |